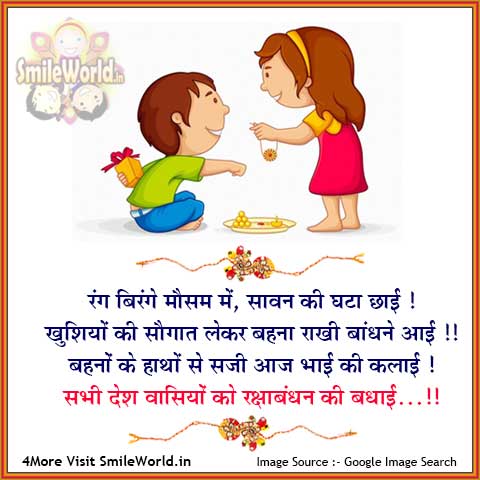 रंग बिरंगे मौसम में, सावन की घटा छाई !
खुशियों की सौगात लेकर बहना राखी बांधने आई !!
बहनों के हाथों से सजी आज भाई की कलाई !
सभी देश वासियों को रक्षाबंधन की बधाई!!
Rang Birange Mausam Mein,
Sawan Ki Ghata Chai,
Khushiyon Ki Saugat Lekar Behna Rakhi Badhne Aai!
Bahino Ke Hathon Se Saji Aaj Bhai Ki Kalai,
Sabhi Desh Vasiyon Ko Raksha Bandhan Ki Badhai!!
---
भगवान ने मुझे एक भी भाई नहीं दिया।😑
हा लेकिन मेरे दिल ने अब तक हजारों भाई बना लिया।😝😘😍😍😍🤗
Happy rakshabandhan 🤩
---
भैया यह राखी तुम्हारी, तुमको मेरी याद दिलाए….
तुम यूं ही मुस्कुराते रहो, मेरी खुशियां भी तुम तक जाए….
---
There are countless incidents we
All have that got us into trouble
One of them.
right after school playing long
Enough to produce anger in our parents head ……
---
You didn't want to marry her
So we conspired against her. I hacked her account. Messaged you from it saying that she didn't wish to marry you. You showed the message to Uncle-Aunty. But we were screwed because the message read, 'I don't want to marry you. I love someone else. Take
care, Bro Jaan.' Remember?
---
and I used to blame you for the fault,
and suddenly I used to start crying.
---
He protected
his Angel
from the Demons
dancing around her.
Who knew
he himself was
the Demon to
his neighbors' Angel!
---
Raksha bandhan used to upset
her as she didn't have a brother.
While her friends celebrated the festival,
she felt sullen.
---
One day while crying her heart out,
she quietly tied a rakhi to Lord Krishna's idol.
---
Since that day,
Raksha Bandhan became her favourite festival.
She became the pen and trusted Her
Brother to write the best story of her life.