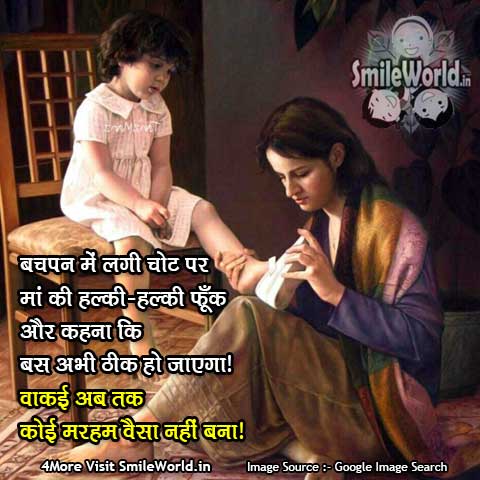 बचपन में लगी चोट पर मां की हल्‍की-हल्‍की फूँक
और कहना कि बस अभी ठीक हो जाएगा!
वाकई अब तक कोई मरहम वैसा नहीं बना!
Bachpan Mein Lagi Chhot Par
Maa Ki Halki-Halki Phoonk
Aur Kehna Ki Bas Abhi Thik Ho Jayegi
Wakai Ab Tak Koi Marham Waisa Nahi Bana!
---
बचपन हर किसीका होता है
लेकिन बचपना हर कोई नही जीता,
हम चाहे लाख बड़े हो जाये ऊँचाइयाँ छू ले,
लेकिन बचपना जीने के लिए कोई tag नही लगता,
हसी मजाक हर कोई करता है लेकिन बच्चो जैसी हसी हर कोई नही हस पाता !
---
Wo Bachpan Hi Kitna Accha tha
Jab Ham Jadoo Ko Bhi Hakikat Man Lete The
Or, Aaj To Hakikat Par Bhi Saak Karte Hai
---
इतनी चाहत तो लाखो रुपए पाने
की भी नहीं होती ,
जितनी बचपन की तस्वीर देखकर
बचपन में जाने की होती है …..
---
'Bister'
Bister hmesa geele ho hi jate hai,
Bachpan me 'Susu' se,
Or ab 'aansuo' se.
---
ये वक़्त उम्र छीन
सकता है मेरी मुझसे
पर मेरा बचपना😋
कभी कोई नही छीन
सकता है🥳
---
Muskurahat rahti hai hmesha
Chehre par mere
Lagta hai ki Bachpan baki hai abhi