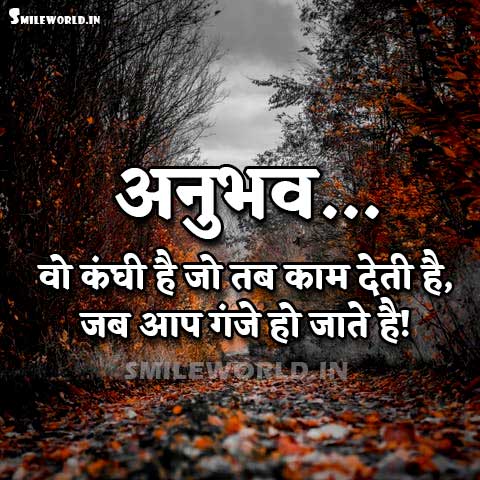 अनुभव…
वो कंघी है जो तब काम देती है,
जब आप गंजे हो जाते है!
Anubhav Wo Kanghi Hai,
Jo Tab Kaam Deti Hai,
Jab Aap Ganje Ho Jate Hai..!!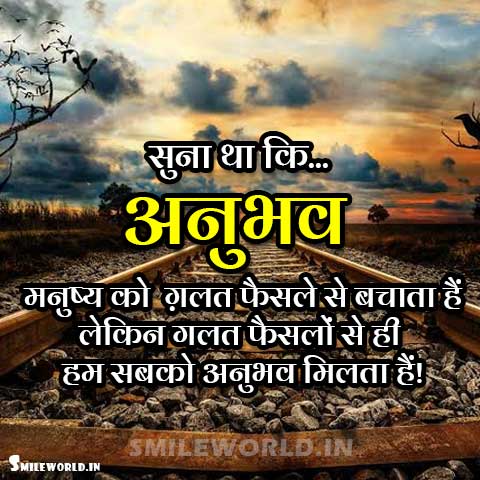 सुना था कि अनुभव मनुष्य को ग़लत फैसले से बचाता हैं
लेकिन गलत फैसलों से ही हम सबको अनुभव मिलता हैं!
---
Life
With a pinch of ambition
A spoon of love
A scoop of sadness
A bite of happiness
Added with a bunch of jealousy
hypocracy, anxiety,desire and other emotions
Life is a blend of these emotions
---
Life will give all flavours when tasted
Depending upon your materialistic tongue
You will not enjoy all the flavours
You will have an option of spitting it all out
Resulting in your death
---
Life is a spoon of dish
Easier to spit than to swallow
Due to our unpredictable toungue
Which makes you feel all the flavours one by one
---
Agr aapko hi baar baar use msg krna pad raha ho…
Or hr baar aap hi uski khairiyat puch rahe ho…
Or kbi bi samne se kbi pehle msg nhi aaya ho…
To smjh lijiye … Aap hi bewakoof ho or Aap bekar me apna waqt us shaks pr
zaaya kr rhe ho.. Just stop it… Agr wo sach me apko ahmiyat deta hoga to
zroor ek baar to puchega ki,
are kya hua aaj kal shant shaant hai.. ( Experience)
---
Dont Listen to the person who has knowledge, but
Listen to the person who has Experience
---
Who says feeling of
accomplishment comes
only when you achieve
something? You can
experience the same
level of joy when you
inspire others and let
them accomplish…
---
Create a new thought,
take it to experience,
new emotion changes
your behavior pattern
& your action turns new.