Agar Tum Jante Ho Ki Tum Zinda Ho Zindagi Quotes in Hindi, Best Life Quotes and Sayings in Hindi With Images Share With Facebook and Whatsapp Friends Anmol Vachan in Hindi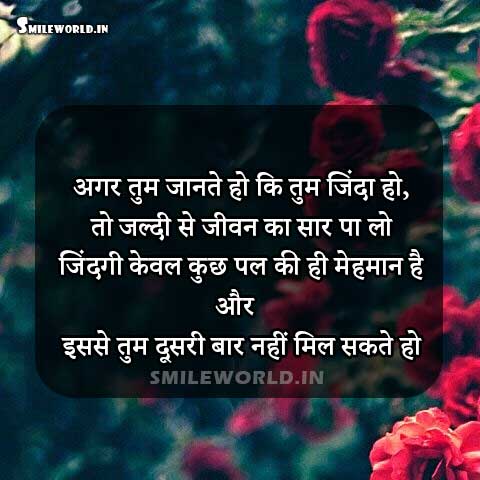 अगर तुम जानते हो कि तुम जिंदा हो,
तो जल्दी से जीवन का सार पा लो
जिंदगी केवल कुछ पल की ही मेहमान है
और  इससे तुम दूसरी बार नहीं मिल सकते हो
Agar Tum Jante Ho Ki Tum Zinda Ho,
To Jaldi Se Jeevan Ka Saar Paa Lo…
Zindagi Kewal Kuch Pal Ki He Mehman Hai!
Aur Isse Tum Dusri Bar Nahi Mil Sakte!!
---
Zindagi ne kuch yuh khilwad
Kiye Hai Humse …
Keh ab to sirf Haste Hi
Rehte Hai ..
---
चाय से भरा कुल्हड़ तो एक एहसास है मिट्टी के सुगंध और चूमने का ।
चायपत्ती कोई भी डालो चाय कुल्हड़ में है तो खास है ।
---
Aaj waqt ne mujhe usse door legaya,
Zindagi Kya hai ye bata degaya,
Mauka tho usne bhi diya mujhe uske sath jeeneki,
magar mazhab ki diwaar firse vo dard degaya…
---
छोड़ो चलो सम्भलते हैं
हाथ छोड़कर चलते हैं ।
---
Pata nhi kese hum
Zindagi ki qarzdar ban gaye he
Jo qarz humne li hi nhi
Use bari bari chuka rahe he
---
घड़ी की सूईयों में यूँ टिक टिक चलते हुए
मैंने देखा है ज़िन्दगी को बहोत करीब से गुजरते हुए
---
Zindagi bhi ek patang ki tarah hoti hai…..
Kis samay kis aur jaye uska kuch pata nai…
kis samay kisse jud jaye uska bhi thikana nai…
---
जिंदगी भी उस जैसी है
ज़िन्दगी भी रुलाती है
और वो भी हमारी
ज़िन्दगी में होने का एहसान जताता है