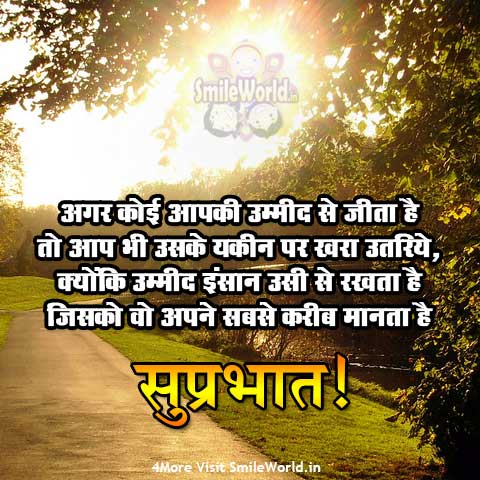 अगर कोई आपकी उम्‍मीद से जीता है
तो आप भी उसके यकीन पर खरा उतरिये,
क्‍योंकि उम्‍मीद इंसान उसी से रखता है
जिसको वो अपने सबसे करीब मानता है।।
सुप्रभात आपका दिन मंगलमय हो…
Agar Koi Aapki Ummed Se Jeeta Hai,
To Aap Bhi Uske Yakeen Par Kara Utariye!!
Kyoki Ummeed Insaan Usi Se Rakhta Hai
Jisko Wo Apne Sabse Kareeb Manta Hai!!
Suprbhat…. Good Morning!!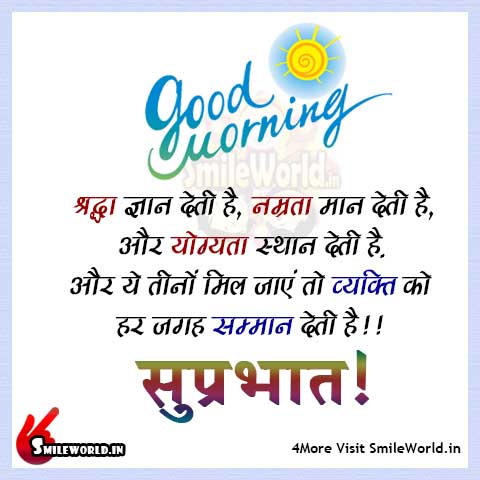 "श्रद्धा" ज्ञान देती है, "नम्रता" मान देती है,
और "योग्‍यता" स्‍थान देती है…
और ये तीनों मिल जाएं तो "व्‍यक्ति" को
हर जगह "सम्‍मान" देती है
सुप्रभात आपका दिन मंगलमय हो…
Sraddha Gyan Deti Hai,
Namrita Maan Deti Hai,
Aur Yogyata Sthan Deti Hai,
Aur Ye Teeno Mil Jaye To Viyakti Ko
Har Jagah Samman Deti Hai!!