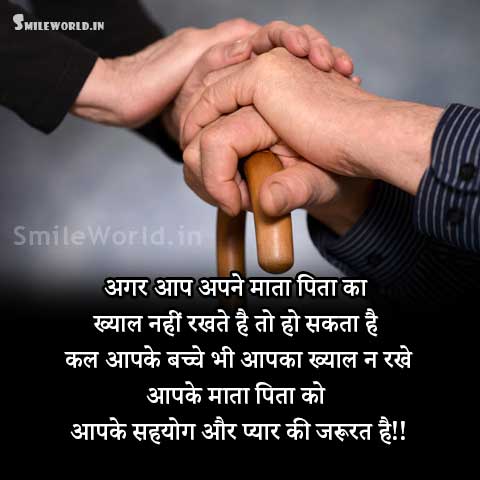 अगर आप अपने माता पिता का ख्याल नहीं रखते है
तो हो सकता है कल आपके बच्चे भी आपका ख्याल न रखे
आपके माता पिता को आपके सहयोग और प्यार की जरूरत है!!
Agar Aap Apne Mata Pita Ka Khayal Nahi Rakhte Hai
To Ho Sakta Hai Kal Aapke Bacche Bhi Aapka Khayal Na Rakkhe
Aapke Mata Pita Ko, Apke Sahyog Aur Pyar Ki Jarurt Hai! ~ Mata Pita Quotes in Hindi
---
माँ वो पेड़ है
जिसकी छाया जितनी दूर जाओ
उतनी ज़्यादा होती जाती है।
---
माँ ऑख खुले तो, चेहरा मेरी माँ का हो,
ऑख बन्द हो तो, सपना मेरी माँ का हो,
में मर जाऊं तो, गम नहीं।
लेकिन…
कफन मिले तो, दुपट्टा मेरी माँ का हो ।…
रब ने माँ को, ये अजमत कमाल दी
इस की दुआ से मुसीबत टाल जाती हैं,
कुरआन में, माँ के प्यार की रब ने,
ऐसी मिसाल दी हैं।
जन्नत ऊठाके, माँ के👣 कदमों में डाल दी ।
---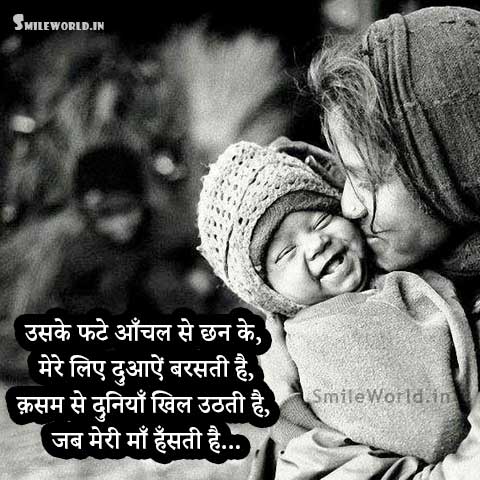 उसके फटे आँचल से छन के, मेरे लिए दुआऐं बरसती है,
क़सम से दुनियाँ खिल उठती है, जब मेरी माँ हॅसती है… 💕
He has all new branded clothes in
his wardrobe.
But when in that chilling night
he came out, no jacket or coat
worked to make him felt warm.
But only the magical sweater made by
his mother has that warmth of love …
सोचा थोड़ा निभाऊं अपना फ़र्ज़,
'माँ' थोड़ा चुकाऊं तेरी ममता का कर्ज!
निकला ढूंढने और मैं अपनी इच्छा पूरी करने पे अड़ गया,
पर इस जँहा में तेरा स्नेह ढकने को आसमाँ भी कम पड़ गया!