Big Collection of Happy Dussehra Wishes in Hindi, Vijaya Dashami Greetings in Hindi With Images Download and Share With Facebook and Whatsapp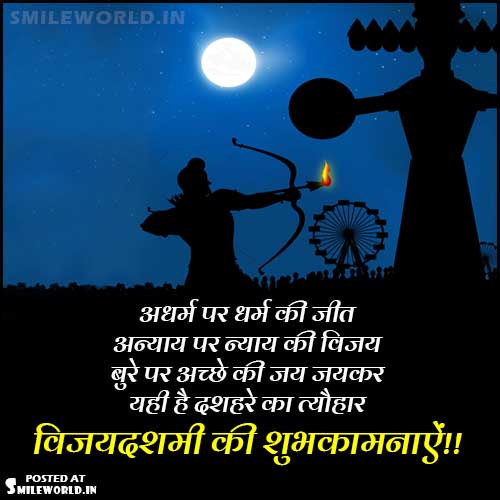 अधर्म पर धर्म की जीत
अन्याय पर न्याय की विजय
बुरे पर अच्छे की जय जयकर
यही है दशहरे का त्यौहार
विजयदशमी की शुभकामनाऐं!!
Adharm Par Dharm Ki Jeet,
Anyay Par Niyay Ki Vijay
Bure Par Acche Ki Jay Jaykar
Yahi Hai Dussehre Ka Tyohar!!
Vijayadashami Ki Hardik Shubhkamnaye!!
---
शांति अमन के इस देश से
अब बुराई को मिटाना होगा
आतंकी रावण का दहन करने
आज फिर राम को आना होगा!
"Happy Dussehra"
---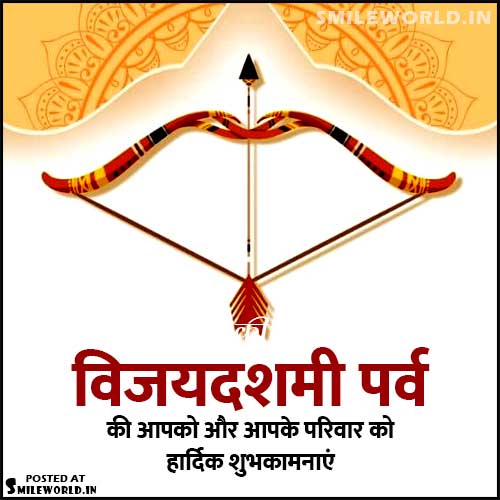 May this Dussehra,
Light up for you.
The hopes of Happy times,
And dreams for a year full of smiles!
Wish you Happy Dussehra.
---
अधर्म पर धर्म की जीत,
अन्याए पर न्याय की विजय।
बुराई पर अच्छाई की जय जय कार
यही है दशहरे का त्यौहार।
शुभ दशहरा
---
बुराई को खुद से और इस देश से दूर भगाओ,
अच्छाई को अपने जीवन में अपनाओ।
रावण को जलाओ और भ्रष्टाचार मिटाओ,
प्रगति के पथ पर भारत देश को आगे बढ़ाओ।
शुभ दशहरा