Best Images Messages for Happy New Year Celebration, Latest New Year Greetings for Facebook and Whatsapp Friends and Family, Naye Saal ki Wishes Hindi Me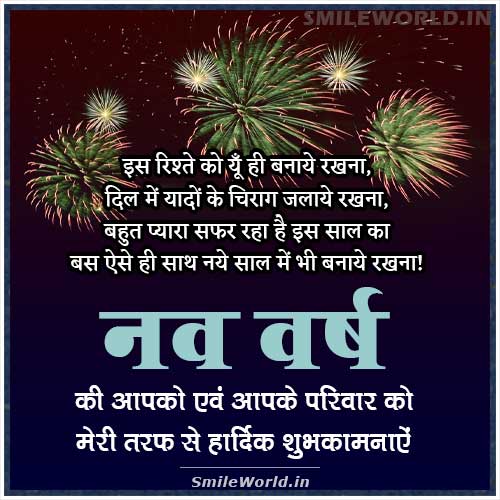 इस रिश्ते को यूँ ही बनाये रखना,
दिल में यादों के चिराग जलाये रखना,
बहुत प्यारा सफर रहा है इस साल का
बस ऐसे ही साथ नये साल में भी बनाये रखना!
आपको नये साल की हार्दिक शुभकामनाएं!
Is Rishte Ko Yun He Banaye Rakhna,
Dil Main Yaadon Ke Chirag Jalaye Rakhna,
Bahut Pyara Safar Raha Hai Is Saal Ka,
Bas Aise He Sath Naye Saal Main Bhi Banaye Rakhna
Aapko Naye Saal Ki Hardik Subhkamnaye!
---
Naya saal, nayi ummeeden,
naye vichar aur nayi shuruwat-
bhagwan Karen aapki har dua haqeeqat ban jaye!
Naye saal ki bahut bahut subhkamayen.
---
Isse pahle ki purane saal ka suraj ast hojaye,
aur purana calendar nasht ho jaye,
isse pehle ki kissi aur ki duaon me aap shamil hojayey,
hum dua karte hain ki aanewala saal aapke liye zabardast rahe.
Naye saal ki bahut bahut shubhkaamnayen.
---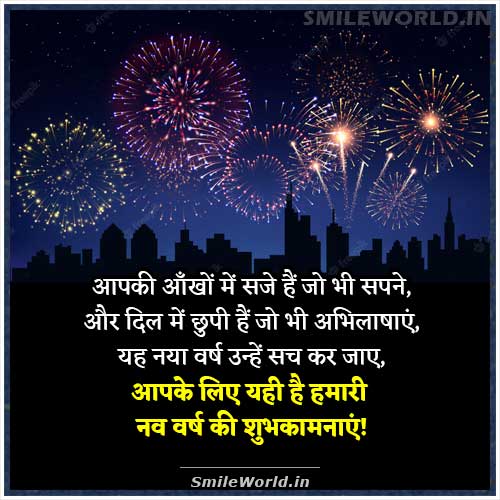 आपकी आँखों में सजे हैं जो भी सपने,
और दिल में छुपी हैं जो भी अभिलाषाएं,
यह नया वर्ष उन्हें सच कर जाए,
आपके लिए यही है हमारी शुभकामनाएं!
नव वर्ष की शुभकामनाएं!
---
नया साल आये बनके उजाला,
खुल जाए आपकी किस्मत का ताला
हमेशा आप पर रहे मेहरबान ऊपर वाला
यही दुआ करता हैं आपका यह चाहने वाला
हैप्पी न्यू ईयर!
---
Naye varsh ka ye prabhat,
Bas khushian hi khushian laye!
Mit jaye sab mann ke andhere,
Har pal bas roshan ho jaye!
Happy New year
---
Dua Mile Bando se,
Sath mile apno se,
Rahmat mile rab se,
Pyar mile sab se,
Yahi dua hai meri Rab se,
ke aap khush rahe sabse,
Happy New Year