नींद हो प्‍यारी! Good Night Shayari for Friends in Hindi Facebook Status, Good Night Shubh Ratri Rishte Nibhana Relationship Shayari in Hindi Status in Hindi for Facebook, Instagram, Twiiter and Whatsapp Status Update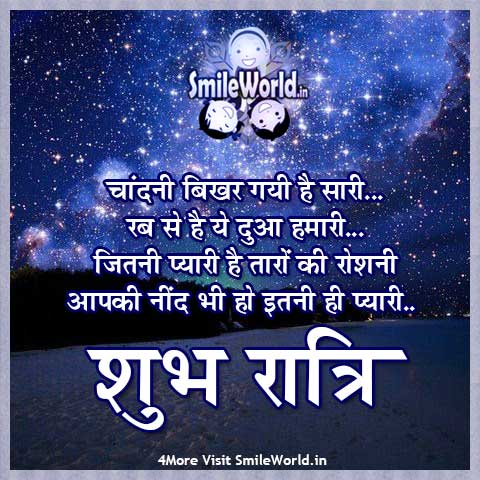 चॉंदनी बिखर गयी है सारी…
रब से है ये दुआ हमारी…
जितनी प्‍यारी है तारों की रोशनी
आपकी नींद भी हो इतनी ही प्‍यारी..
!!… शुभ रात्रि… !!
Chandni Bikhar Gai Hai Sari,
Rab Se Hai Ye Dua Hamari,
Jitni Pyari Hai Taron Ki Roshni,
Aapki Nind Bhi Ho Etni He Pyari!!
Good Night Take Care of Yourself!
---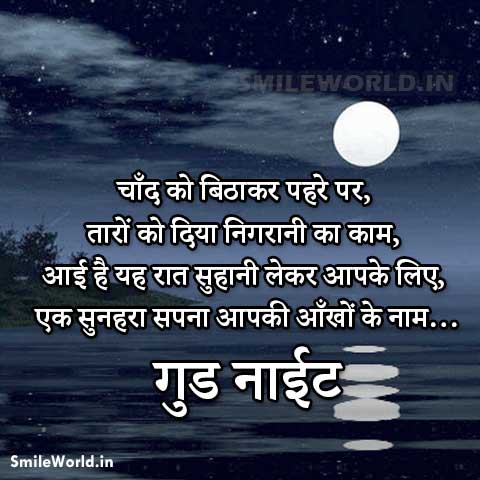 चाँद को बिठाकर पहरे पर,
तारों को दिया निगरानी का काम,
आई है यह रात सुहानी लेकर आपके लिए,
एक सुनहरा सपना आपकी आँखों के नाम…
गुड नाईट!!
Chand Ko Baithakar Pehre Par,
Taron Ko Diya Nigrani Ka Kaam,
Aai Hai Yah Raat Suhani Lekar Aapke Liye,
EK Sunhara Sapna Aapki Ankho Ke Naam
Good Night My Friend!!
---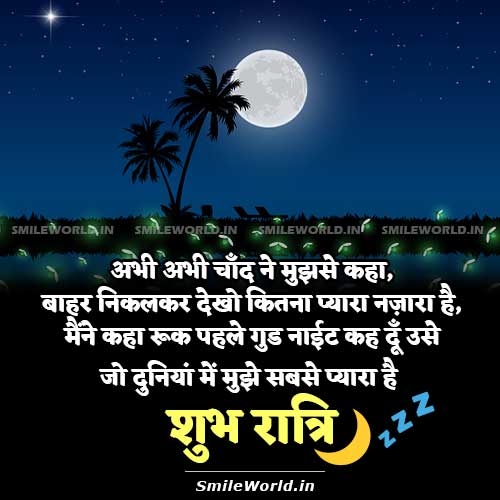 अभी अभी चाँद ने मुझसे कहा,
बाहर निकलकर देखो कितना प्यारा नज़ारा है,
मैंने कहा रूक पहले गुड नाईट कह दूँ उसे
जो दुनियां में मुझे सबसे प्यारा है ।
🌙Good Night ⭐
---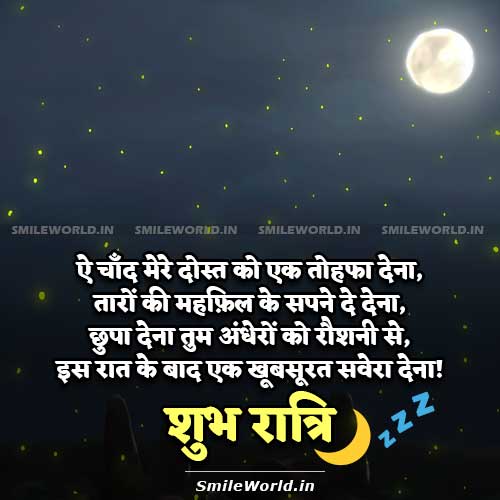 ऐ चाँद मेरे दोस्त को एक तोहफा देना,
तारों की महफ़िल के सपने दे देना,
छुपा देना तुम अंधेरों को रौशनी से,
इस रात के बाद एक खूबसूरत सवेरा देना।
गुड नाईट।
---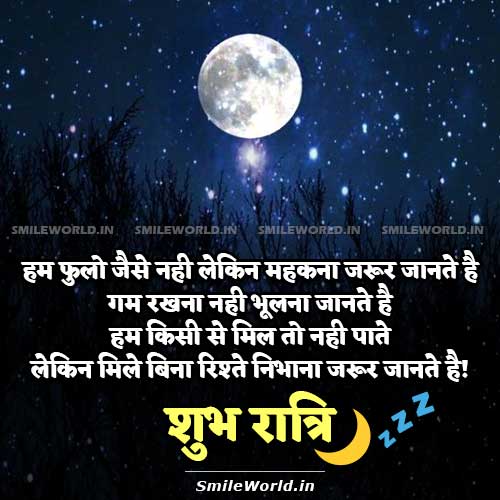 हम फुलो जैसे नही लेकिन महकना जरूर जानते है
गम रखना नही भूलना जानते है
हम किसी से मिल तो नही पाते
लेकिन मिले बिना रिश्ते निभाना जरूर जानते है ।
⭐शुभ रात्रि।🌕💕
Also View This
Good Night Hindi Status Messages Images
आपकी नींद भी हो इतनी ही प्‍यारी!! Good Night Shayari in Hindi