Sweet Cute Wishes, Shubh Ratri / Good Night Shayari in Hindi for Friends Shayari for Facebook and Whatsapp Friends and Family You Can Download Free Beautiful Good Night Wishes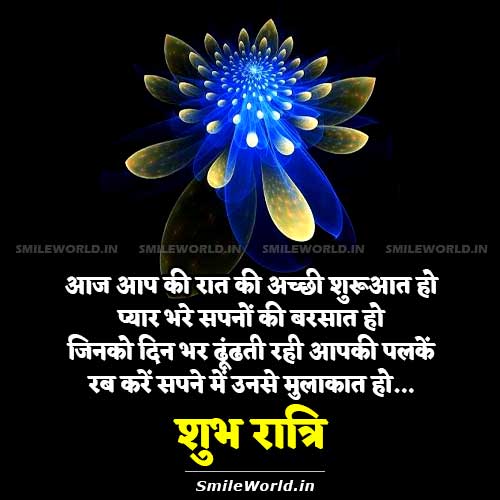 आज आप की रात की अच्छी शुरूआत हो
प्यार भरे सपनों की बरसात हो
जिनको दिन भर ढूंढती रही आपकी पलकें
रब करें सपने में उनसे मुलाकात हो…
शुभ रात्री!
Aaj Aap Ki Raat Ki Acchi Suruwat Ho,
Pyar Bhare Sapno Ki Barsaat Ho,
Jinko Din Bhar Dundti Rahi Aapki Palkein,
Rab Kare… Sapno Main Unse Mulaqaat Ho…
Good Night!!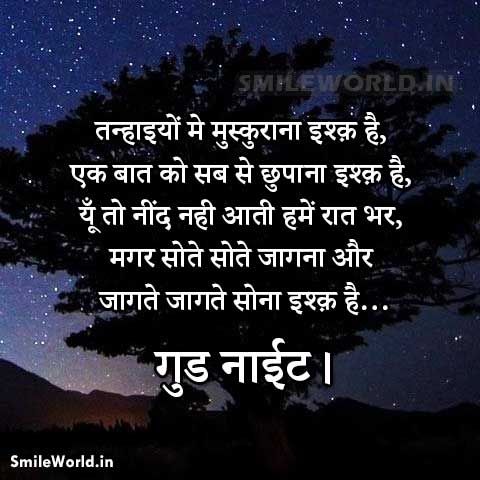 न्हाइयों मे मुस्कुराना इश्क़ है,
एक बात को सब से छुपाना इश्क़ है,
यूँ तो नींद नही आती हमें रात भर,
मगर सोते सोते जागना और जागते जागते सोना इश्क़ है…
गुड नाईट।
Tanhaiyo Mein Muskurana Ishq Hai,
Ek Baat Ko Sab Se Chupana Ishq Hai,
Yun To Neend Nahi Aati Hamein Raat Bhar,
Magar Sote Sote Jagana Aur Jagte Jagte Sona Ishq Hai!
Good Night…
---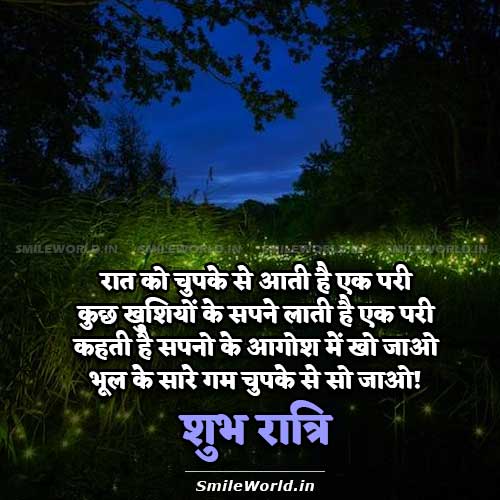 रात को चुपके से आती है एक परी
कुछ खुशियों के सपने लाती है एक परी
कहती है सपनो के आगोश में खो जाओ
भूल के सारे गम चुपके से सो जाओ।💞
Good Night Sweet Dreams
---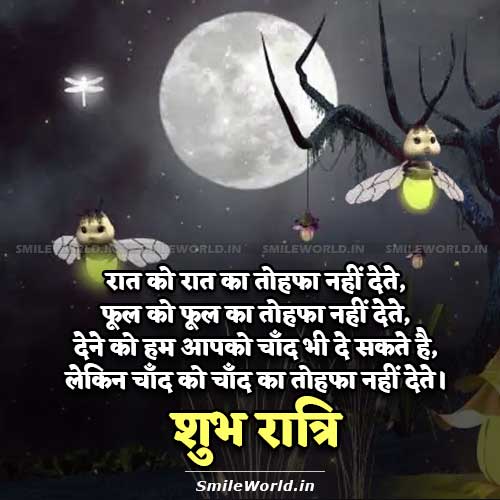 रात को रात का तोहफा नहीं देते,
फूल को फूल का तोहफा नहीं देते,
देने को हम आपको चाँद भी दे सकते है,
लेकिन चाँद को चाँद का तोहफा नहीं देते।
⭐शुभ रात्रि।🌕💕
---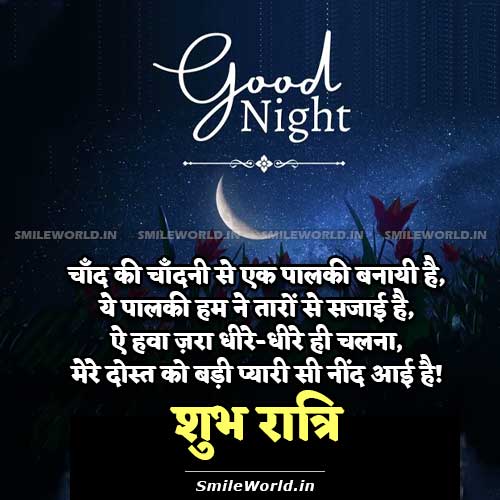 चाँद की चाँदनी से एक पालकी बनायी है,
ये पालकी हम ने तारों से सजाई है,
ऐ हवा ज़रा धीरे-धीरे ही चलना,
मेरे दोस्त को बड़ी प्यारी सी नींद आई है।
शुभरात्रि।
---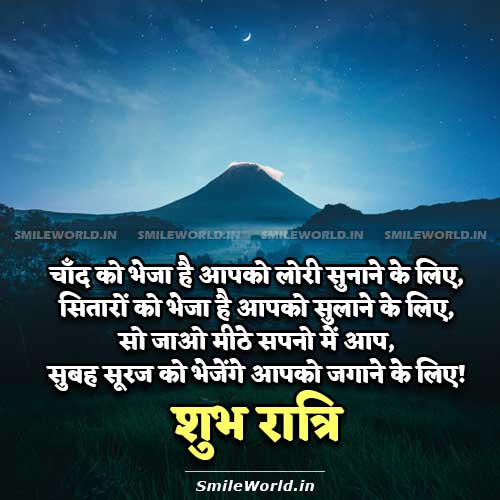 चाँद को भेजा है आपको लोरी सुनाने के लिए,
सितारों को भेजा है आपको सुलाने के लिए,
सो जाओ मीठे सपनो में आप,
सुबह सूरज को भेजेंगे आपको जगाने के लिए।
Good Night
Also View This
Aaj Aap Ki Raat Ki Shubh Ratri / Good Night Wishes in Hindi