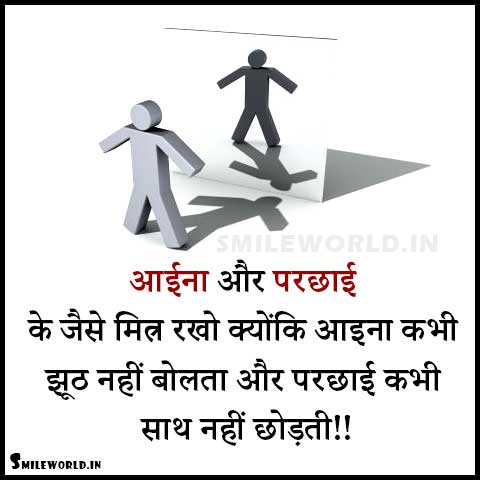 आइना और परछाई के जैसे मित्र रखो
क्योंकि आइना कभी झूठ नहीं बोलता
और परछाई कभी साथ नहीं छोड़ती!!
Aaina Aur Parchai Ke Jaise Mitra Rakho
Kyunki Aaina Kabhi Jhooth Nahi Boolta
Aur Parchai Kabhi Sath Nahi Chhodti…
---
लिखकर लाया था कोरे क़ागज पर परेशानियां।
दोस्तों ने जहाज़ बनाकर उड़ाना सिखा दिया…
---
किनारों पर सागर के खजाने नहीं आते
जिंदगी में फिर दोस्त पुराने नहीं आते
---
It took me so long to realize
that I was the only one who was thinking that we are FRIENDS..
And actually I was nothing more than a wisp in his valuable LIFE…
---
आपतो जानते हैं कि हम ऐसे हैं,
बेवज़ह कोई नहीँ पूछँता, आप कैसे हैं ।
ये सब जो दोस्ती का लिबाज़ ओढ़े बैठें हैं,
हक़ीक़त तो ये हैं कि सब के सब दुश्मनों जैसे हैं ।
---
Some friendships are
meaningless and some are endless.
---
मैं कुछ लिखू तुम्हारे बारे में तुम इस लायक नही हो
तुम तो हर किसी की हो जाते हो,
तुम किसी के लायक नही हो
---
Doston ka saath ho toh kya kuch nahi hota
Agar doston ka saath ho toh kya kuch nahi hota
Dost hai toh mein hun
Wrna mein bhi nahi hota!
---
Dosti kuch khass hoti h wrna,
Do anjan musafir ek saath nhi milte.
Kuch toh rishte hoge pichle janam k karmo k wrna,
Yuhi kisise mulaqat aur bichdna nhi hota.
Samundar si gehri kuch dosti hoti h wrna,
Uthte chote lehro se tsunami nhi ati.
Ache aur bure dosto ko farak pata chalta h wrna,
Tu se tum aap nhi hua karte.