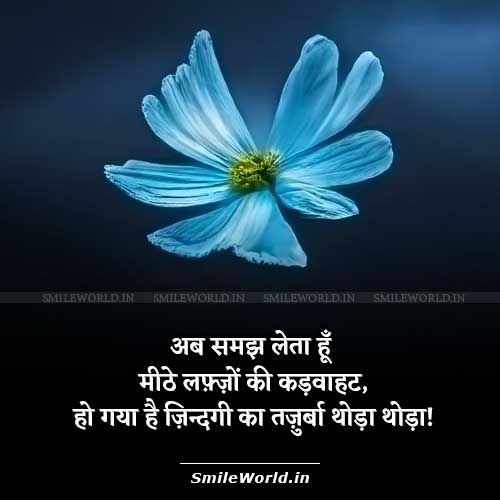 अब समझ लेता हूँ मीठे लफ़्ज़ों की कड़वाहट,
हो गया है ज़िन्दगी का तज़ुर्बा थोड़ा थोड़ा।
Ab Samjh Leta Hun Meethe Lafzon Ki Kadwahat,
Ho Gaya Hai Zindagi Ka Tajurba THoda THoda!!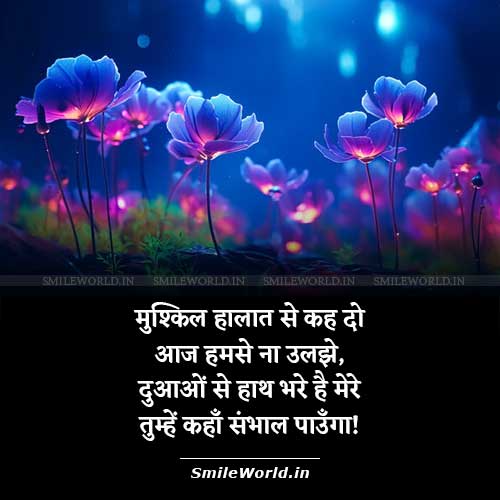 मुश्किल हालात से कह दो आज हमसे ना उलझे,
दुआओं से हाथ भरे है मेरे तुम्हें कहाँ संभाल पाउँगा।
Mushkil Halat Se Keh Do Aaj Humse Na Uljhe,
Duao Se Hath Bhare Hahi Mere Tumhe Kahan Samhal Pauga!!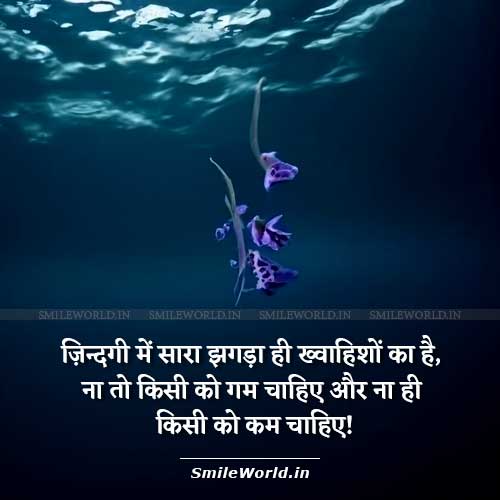 ज़िन्दगी में सारा झगड़ा ही ख्वाहिशों का है,
ना तो किसी को गम चाहिए और ना ही किसी को कम चाहिए।
Zindagi Main Sara Jhagda He Khuwahishon Ka Hai,
Na to Kisi Ko Gum Chahiye Aur Na He Kisi Ko Kam Chahiye..!!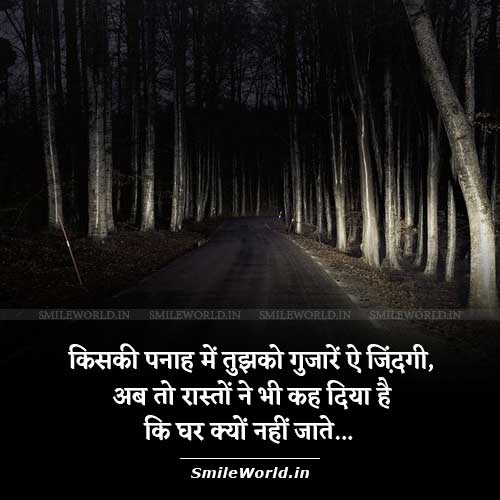 Kiski Panah Main Tujhko Guzare E Zindagi,
Ab To Raston Ne Bhi Keh Diya Hai Ki…
Ghar Kyun Nahi Jate….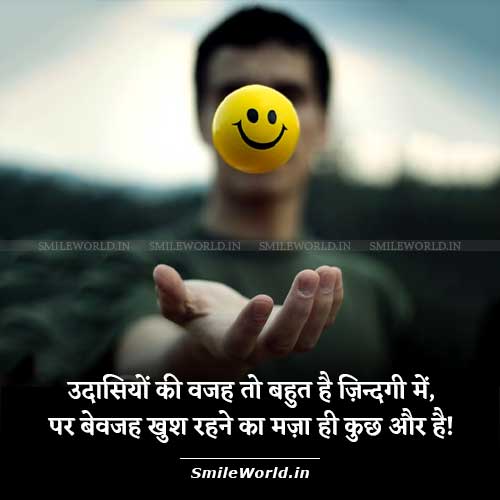 उदासियों की वजह तो बहुत है ज़िन्दगी में,
पर बेवजह खुश रहने का मज़ा ही कुछ और है।
Udasiyon Ki Wajah To Bahut Hai Zindagi Main,
Par Bewajah Khush Rahne Ka Maza he Kuch Aur Hai!!