Bewafai Shayari in Hindi for Girlfriend and Boyfriend Images, Best Collection of Bewafa and Bewafai Hindi Shayari With Pictures for Facebook and Whatsapp Status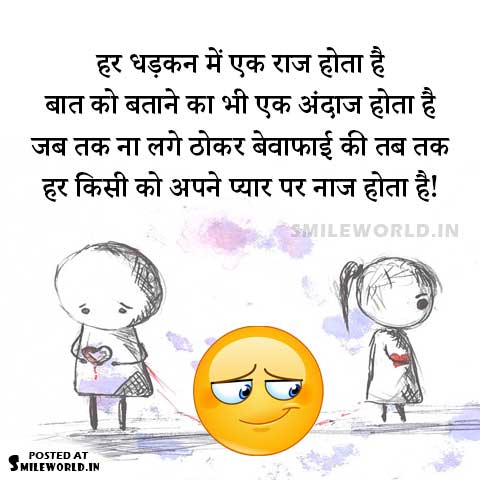 हर धड़कन में एक राज होता है
बात को बताने का भी एक अंदाज होता है
जब तक ना लगे ठोकर बेवाफाई की तब तक
हर किसी को अपने प्यार पर नाज होता है…!!
Har Dhadkan Main Ek Raz Hota Hai
Baat Ko Batane Ka Bhi Ek Andaz Hota Hai
Jab Tak Na Lage Thokar Bewafai Ki Tab Tak
Har Kisi Ko Apne Pyar Par Naz Hota Hai…!!
---
हमें मोहब्बत का कुछ ऐसा फलसफा मिला
कभी हम रहे नाराज़ तो कभी वो खफा मिला
जाने कैसे मिल जाती है बेपनाह मोहब्बत
हमें तो यार ही कम्बख़्त बेवफा मिला
था इश्क़ या की सौदा हम समझ ना पाये
रही हिज्र में कमी मगर वस्ल में नफ़ा मिला
बेइंतहा मोहब्बत की आस लिये बैठे थे जिनसे
वो फरेबी झूठ के नकाब में ही हर दफ़ा मिला
सोहबत को उसकी कुर्बान कर दी दुनिया
हासिल हुई ना खुशियाँ "मन" को जफ़ा मिला
---
हम तो खुद ही दिल हार बैठे
बेवफ़ाई का दोष तुम पर क्या लगाये।
---
मोहब्बत का खेल मेरे साथ…💑
वो खूब खेली…👫
इसके बाद उसने मेरी…✋
जान ले ली💔
---
अब देख ले बेवफाई में अंज़ाम अपना।
तूने खो दिया मेरे दिल में मकाम अपना।
अब तो मेरी कलम को भी ऐतराज़ है ज़िक्र से तेरे,
ढूंढना बंद कर मेरी शायरी में नाम अपना॥