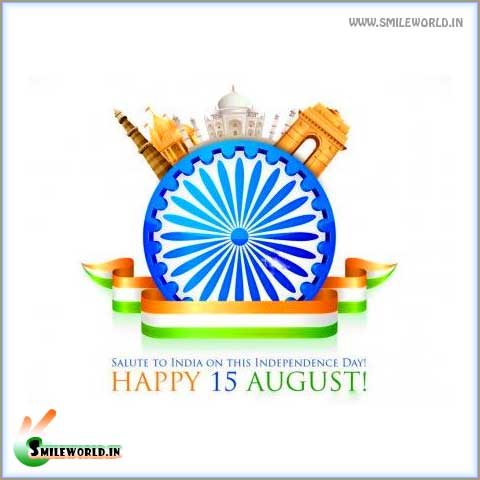 =–..__..-=-._.
!=–..__..-=-._;
!=- -..@..-=-._;
!=–..__..-=-._;
!
i i
"Na Bijlii, Na Paani"
"Phir B Dil hai Hindustani!"
Happÿ Ïndependence Daÿ
---
wish you all a happy independence day
may our country progress in everywhere and in everything
so that the whole world should have proud on us
---
Bhool na jana bharat ma ke sapooton ka balidan
Is din ke liye jo huye the hanskar kurbaan
Aazadi ki ye khushiyan manakar lo ye shapath
Ki banayenge desh bharat ko aur bhi mahaan
Bharat Mata Ki Jai!!
---
Hlki si dhup brsat k baad,
thori si khushi hr baat k baad,
Isi tarh mubark ho ap ko,
Azadi 1 din k baad….
Wish u a very happy independence day
Happy 15 August Independence Day Status for Whatsapp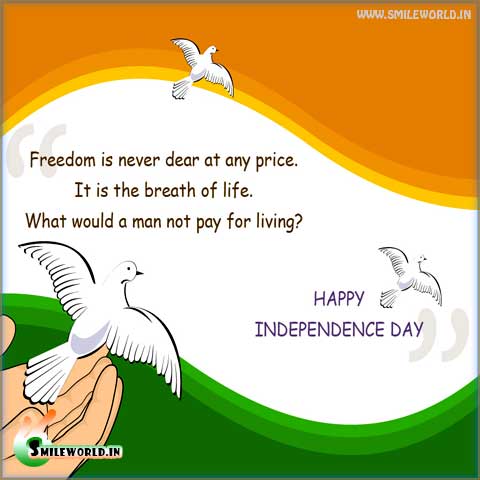 Freedom is never dear at any price,
It is the breath of life.
What would a man not pay for living?
Happy independence day
---
kuch hath se uske fisal gaya ,
wah palak jhapak kar nikal gaya ,
fir laash bich gayi laakhon ki ,
sab palak jhapak kar badal gaya ,
jab rishte raakh me badal gaye ,
insaano ka dil dahal gaya ,
main poochh poochh kar haar gaya ,
kyon mera bharat badal gaya .
HAPPY INDEPENDENCE DAY
---
Sundar hain jag me sabse,
Naam bhi nayara hain
Jaha jaati-bhasha se badh kar
Desh-Prem ki dhara hain
Nishchal, pawan, prem purna
Wo BHARAT desh humara hai
Happy Swatantrata Diwas 🙂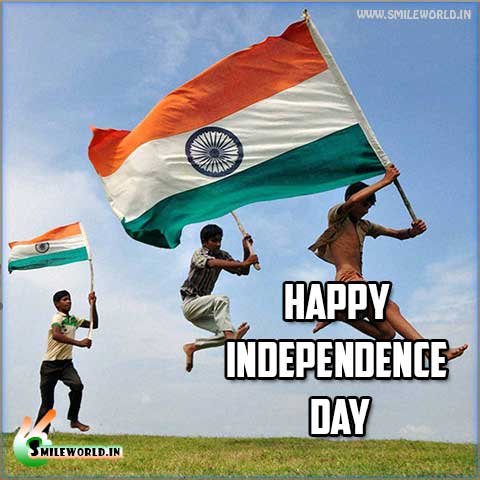 Goonj raha hai duniya me Bharat ka nagara
Chamak raha aasma me desh ka sitara
Aazadi ke din aao milke karen duaa
Ki bulandi par lahrata rahe Tiranga hamara
Happy independence day!!
---
31 Rajya,
1618 Bhashaayen,
6 Dharm,
6400 Jaatiyan,
6 Jaati samuh
29 Mukhy Tyohaar
aur 1 desh!
Mujhe apne Bharteey hone par garv hai!..
Swatantrta diwas ki shubhkamnayen!
---
एक वक़्त वो भी आयेगा, जब लोग, जितनी शिद्दत से,
गणतंत्र दिवस का संदेश भेजते हैं,
स्वतंत्रता दिवस का स्टेटस, सोशल मीड़िया पर लगाते हैं,
बिल्कुल वैसे भी, सोशल मीड़िया का इस्तेमाल करते हुये,
असल जिंदगी में भी, अपने स्वार्थ को त्यागकर,
जनहित के लिये खड़े होंगे, उनके लिये लड़ेंगे,
अग़र नहीं तो, कम-से-कम उनका साथ देंगे,
तब ही गणतंत्र या स्वंतंत्रता दिवस के मायने पूरे होंगें;
हमारा देश कुछ मायनों में, वैसे आज भी गुलाम हैं –
अज्ञानता से, बेरोजगारी से, भुखमरी से, विवशता से और एक तंत्र की मनमानीसे;
वरना पिजड़े में बंद तोते को, आज़ादी-आज़ादी बुलवाने से,
क्या उसे आज़ादी मिल जाती है…?
वैसे हमारे यहाँ तो, किसान, इतने दिनों से प्रोटेस्ट कर रहे हैं, दिल्ली में,
मग़र सुनवाई तक नहीं हो रहीं,
नज़रअंदाज़ करकर क्या होगा? क्योंकि ये ही हमारे तंत्र की हक़ीक़त हैं;
ख़ैर! आप सभी को शुभकामनाएं…
-Gaurav Tasiwal
---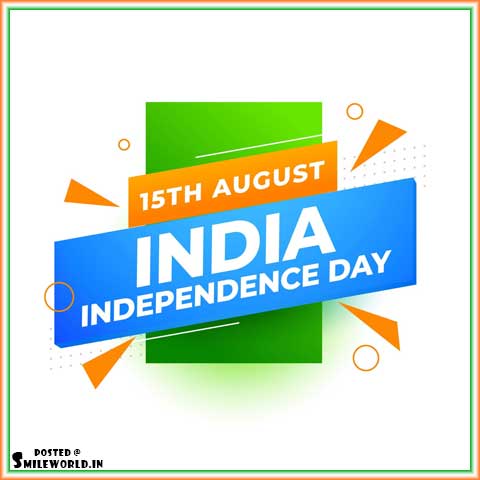 लेखनी मेरी मानो राणा की तलवार की धार
भेद दे सीना दुश्मन का, शब्दों का सीधा प्रहार,
कफन तिरंगा ख्वाहिश लिए शहीदों का करूँ गुणगान
चीखें लिखूं भारत की, अलंकारों से करूँ वीर रस का श्रृंगार।
#कलम_ए_इंक़लाब✍️🏻🇮🇳
---
तिरंगा🇮🇳 रखना है तो अपने ❤️दिल में रखिए..
DP में नहीं रखेगे तो भी चलेगा
क्यों की DP तो आप अगले दिन बदल देंगे,
पर ये देश🇮🇳 तो हमेशा आपका रहेगा …
और जो 15 अगस्त 26.. जनवरी को महज छुट्टी का दिन समझ ते है…
उसे ये पागल दिल बस इतना कहेगा
जो अपने देश 🇮🇳 से प्यार नहीं करता वो किसी और से कैसे करेगा…
🙏🇮🇳 जय हिन्द..जय भारत 🇮🇳🙏
---
लाखों जवानों का ये बलिदान है..
मेरा 🇮🇳 तिरंगा मेरी पहेचान है..
पहेचान है ये मेरा अरमान है..
अरमान है ये मेरा अभिमान है..
मेरा तिरंगा मेरी पहेचान है..
❤️😘🇮🇳🇮🇳🙏