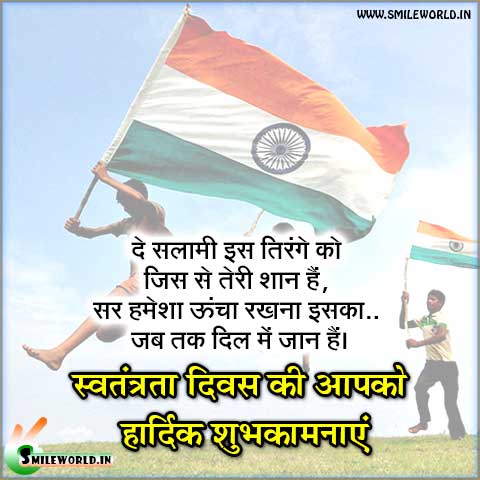 जिस दिन रास्ते पर तिरंगा बैचने वाले बच्चे न दिखे उस दिन सोचना हम आज़ाद हो गये।
बेबी को बेस पसन्द हैं, सलमान को केस पसन्द हैं,
मोदी को विदेश पसन्द हैं, और मुझे मेरा देश पसंद हैं।
दे सलामी इस तिरंगे को जिस से तेरी शान हैं,
सर हमेशा ऊँचा रखना इसका.. जब तक दिल में जान हैं। Vande Matram
जिन की पत्नी वेकेशन करने मायके चली गई है,
वो स्टेटस पर तिरंगा लगा कर अपनी आज़ादी का ऐलान कर सकते हैं।
अब तक जिसका खून न खौला,
वो खून नहीं वो पानी है जो देश के काम ना आये, वो बेकार जवानी है,
15 August Happy Independence Day Best Status for Whatsapp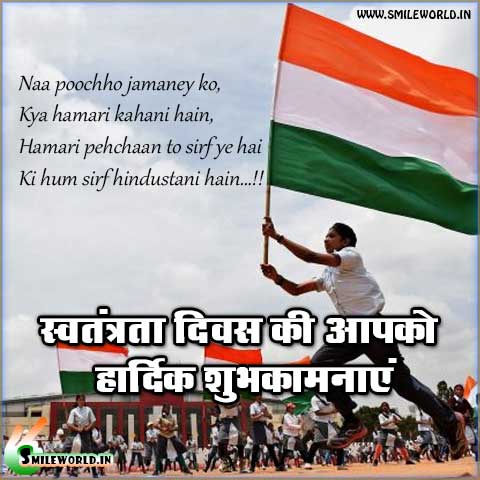 Freedom was taken by the blood that was given.
Happy Independence Day.
Freedom is nothing but a chance to be better.
Freedom is a Precious gift of our freedom fighters.
One nation, One vision, One identity,
No nation is perfect, it needs to be made perfect.
Happy Independence Day!
Let us come together to facilitate our glorious nation
and feel proud to be Indian! Wish you a Happy Independence Day!
Celebrate the free spirit of India
May this Independence Day Fills your life happiness and prosperity
Happy Independence Day
Sarfaroshi ki tamanna ab hamare dil me hai,
Dekhna hain jor kitna, baju-e-qatil mein hain
Jo log dusro ko azadi nhi dete,
unhe khud b iska hk nhi hota
Na poocho jamane ko, ki kya humari kahani hain,
Humari pehchaan to sirf ye h ki hum Hindustani h
Ye mat puchho ki vatan ne tumhein kya diya h,
ye puchho ki tumne vatan ke liye kya kiya hai ?